Drainage Solutions
Without a functional and well-built drainage system, your property runs the risk of flooding when water from your irrigation or laundry/sink areas suddenly overflowed. Fortunately, our company has the expertise required to install efficient and functional drainage systems as well as to troubleshoot various drainage problems you may have.


Professional Drainage Installation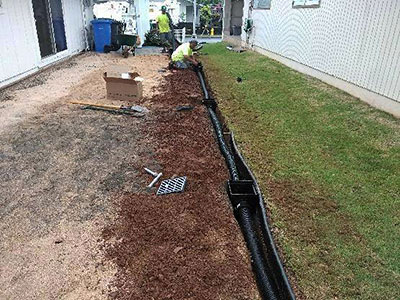 Unlimited Landscape Hawaii LLC is the company you can count on for cost-effective but highly efficient drainage solutions. Initially, we perform an inspection to determine the drainage needs of your property. We use quality drainage materials that are proven durable and efficient. We also come to your place with complete tools and equipment, so the project is done fast and according to your specifications. Plus, we can install different types of drainage systems for residential properties. One of the drainage systems that we recommend to homeowners is the French drain. This drain type is useful in eliminating standing water in your garden, yard or basement. The purpose of the French drain is to redirect water away from your home or other areas of the property.

Our well-trained crews can put a comprehensive drainage system in place to protect your home and landscape against water runoff damage. We will analyze the topography of your property to ensure the proper depth and spacing of your drainage system. This approach makes our drainage solutions highly effective, functional, and reliable.


Drainage Repair and Maintenance
Blocked or leaking drainage systems can cause significant problems. They not only pose serious health risks and inconvenience, but also cause massive damage to landscape features and other structures in your property. If you have a problem with your drainage system, we are the right company to call. We offer reliable drainage repairs and maintenance for residential and commercial properties. Our crews can easily identify common drainage issues because of their lengthy experience in the field. They are also equipped with the right tools and equipment. A lot of our past clients commend us for our effective drainage solutions, so call us now at (808) 726-9495 to inquire about this particular service.