Drainage Solutions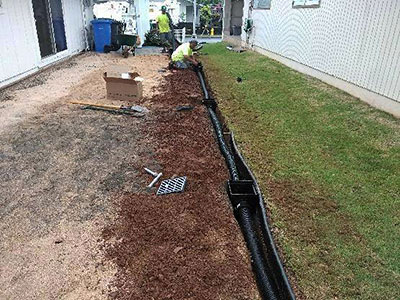 Our well-trained crews can put a comprehensive drainage system in place to protect your home and landscape against water runoff damage. We will analyze the topography of your property to ensure the proper depth and spacing of your drainage system. This approach makes our drainage solutions highly effective, functional, and reliable.


Drainage Repair and Maintenance
Blocked or leaking drainage systems can cause significant problems. They not only pose serious health risks and inconvenience, but also cause massive damage to landscape features and other structures on your property. If you have a problem with your drainage system, we are the right company to call. We offer reliable drainage repairs and maintenance for residential and commercial properties. Our crews can easily identify common drainage issues because of their lengthy experience in the field. They are also equipped with the right tools and equipment. A lot of our past clients commend us for our effective drainage solutions, so call us now at (808) 726-9495 to inquire about this particular service.