Concrete Overlay
Concrete is commonly used in landscaping and outdoor living projects. It's a highly sturdy and resilient flooring material, and the finished result is also rather appealing. If you feel that your existing concrete flooring looks old and drab, overlaying it is better than replacing it.

Just as Unlimited Landscape Hawaii LLC handles all types of concrete flooring projects, we also do an excellent job with ornamental concrete overlays.


Concrete Overlays - What Are They?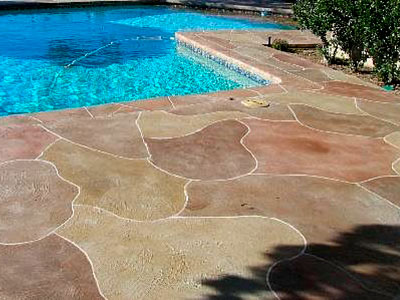 Concrete overlays are thin, broom-finished finishes that revitalize a cracked or worn-out driveway or other concrete surfaces. Overlays made of concrete are an excellent alternative for aesthetic and repair projects. The product is used as a broom finish to revive dated or damaged surfaces, giving them a new appearance, and enhancing the dull concrete surface. These overlays come in various colors and textures and can be sprayed, troweled, smoothed, or stamped.

You can choose from formats, including stamp-mixes, self-levelers, resurfacers and microtops. Each shape has a unique application procedure, and we can produce the most unique and aesthetically pleasing flooring for your Wahiawa, HI, home, or business premises.

While concrete overlay work has been around for decades, the materials and technology used in these applications have evolved significantly. Today's overlays combine various polymer resins and other additives with cement to create floors that look wonderful and endure a long time. The polymer-based overlays are applied in thin layers.

One significant benefit of concrete overlay applications is that they create an incredible aesthetic at a reasonable cost — the completed flooring will look beautiful and refined. There are many overlay options available in a variety of ornamental treatments.


Our Concrete Overlay Work Process
When you approach us with your requirements, we will visit the location and assess the flooring's precise condition. This will help our team determine which overlay approach is most appropriate for your purpose. We strive to create aesthetically pleasing, resilient, and minimal maintenance flooring. We constantly keep an eye on the budget and guarantee that you receive the most value for your money, regardless of the size or scope of your project.


Customized Concrete Overlays
Depending on the state of the floor, we may apply a heavier coating. Our team will provide you with all the information about these overlays and advise whether they are suitable for your surfaces. We use high-grade concrete overlays and the latest techniques, so they adhere very well to the existing surfaces. These surfaces look great and last for many years within minimal maintenance.

We recognize that every property is unique, and our team works with you to ensure that you get high-quality services within your budget. Our company focuses on client satisfaction, and you can be sure of excellent value every time you hire us.

If you want concrete overlay for your outdoor living areas, yard or landscape areas, call Unlimited Landscape Hawaii LLC at 808-726-9495. You can also send us your requirements and inquiries via this Online Form. One of our experts will call you back soon to discuss your project and concrete overlay needs.