Drainage Solutions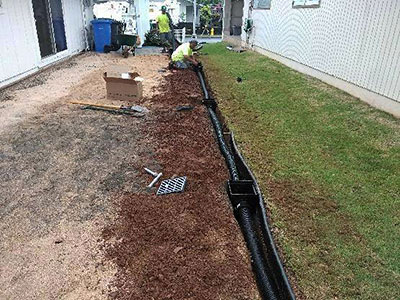 Our well-trained crews can put a comprehensive drainage system in place to protect your home and landscape against water runoff damage. We will analyze the topography of your property to ensure the proper depth and spacing of your drainage system. This approach makes our drainage solutions highly effective, functional, and reliable.


Drainage Repair and Maintenance
Blocked or leaking drainage systems can cause significant problems. They not only pose serious health risks and inconvenience, but also cause massive damage to landscape features and other structures on your property. If you have a problem with your drainage system, we are the right company to call. We offer reliable drainage repairs and maintenance for residential and commercial properties. Our crews can easily identify common drainage issues because of their lengthy experience in the field. They are also equipped with the right tools and equipment. A lot of our past clients commend us for our effective drainage solutions, so call us now at (808) 726-9495 to inquire about this particular service.

Unlimited Landscape Hawaii LLC recognizes the need for a functional and robust landscape drainage network, and our professionals always keep this in mind. We conduct in-depth discussions with you to have a deeper understanding of your needs and to analyze the landscape. While assessing your property in Wahiawa, HI, our experts will also identify the greenery, structural components, and flowerbeds.


Design and Installation of Drainage Systems
We construct landscape drainage to be faultless in every way and to function correctly. We use a variety of drain types in landscapes, depending on the layout, slope, gradation, and expanse, including the following:


Area Drains - These main drains connect directly to a much more complex network of underground landscape drains and are particularly well suited to low-lying areas. They are often installed in places that receive excessive rainfall or in landscapes where flooding threatens the property.


Channel Drains - These elements are ideal for capturing runoff from grass and patios and pavement drainage. They help drain excess water away from the building on the property into the mainline sewers.


French Drains - If your landscaping includes elevated planters, you'll need specialized landscape drainage to divert water away from those areas. French drains are very beneficial in this sense. We cover the gutters in these systems with landscaping material and then fill up the space above them with gravel and stones. This installation improves the ground's permeability and aids in the prevention of drain clogs.


If you have been struggling with drainage and water pooling problems on your residential or commercial property, do not delay in calling us. We offer the best drainage solutions, please call Unlimited Landscape Hawaii LLC at 808-726-9495. You can also send us your requirements and inquiries via this Online Form. One of our experts will call you back soon to discuss your project.