Landscape Design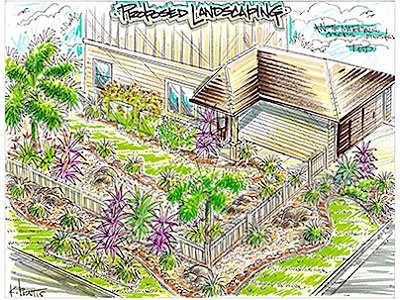 We offer FREE landscape designs utilizing the latest 3D technology as well as hand-drawn architecture designs. Our dedicated team will create a design plan specific to your budget, ideas and vision for your property. We can incorporate any of our services into your design plan making us a one-stop shop for all of your landscape projects needs.


Hardscape: Walkways, driveways, pool decks, rock walls and similar hardscape structures.
Softscape: We can install grass, trees, shrubs, flowers and any other plants.
Water features: We can add ponds, waterfalls, pools, and other water features.
Outdoor living: Patios, gazebos, outdoor kitchens, outdoor showers and any other outdoor living spaces.
Fire features: Firepits, fire bowls, and fireplaces.

Call us today at (808) 726-9495 for more details on our landscape design services.

Click on the images below to view a larger display.


Nowadays, most property owners want far more than common landscaped areas. They desire outdoor spaces that are distinctive to their property and contribute considerably to their residence or business value. This aspect has made landscape design an in-demand service. We at Unlimited Landscape Hawaii LLC have been in this field for years, providing customized landscape design services to clients in and around Wahiawa, HI.

While it is critical to ensure proper installation, it is more crucial to have excellent landscape conceptual designs in place beforehand. Amateurs cannot take on such projects because of the vast knowledge required in hardscaping, different soil conditions, horticulture, utility, and aesthetics. These disparate elements must coexist to create environments that are both practical and visually pleasing. We focus on these factors as part of our landscape design and planning solutions.


Custom Landscape Design Plans
You cannot disregard landscape design as a critical component of home remodeling. With our significant experience in the industry, we can create a plan tailored to your exact needs. While we place a high premium on client satisfaction, we never cut corners or compromise quality.

We use only high-quality products in all projects, and our team closely supervises the quality of work at each level. This attention to detail and commitment to providing value to our clients sets us apart from most other companies in the sector. We never deviate from these obligations, regardless of the size of the task. Our landscape designers consider their job done after the installation is complete. They visit the site when the job is in progress to ensure that the installers are following the approved plans.

If you are looking for creative and skilled professionals for landscape design and planning, please call Unlimited Landscape Hawaii LLC at 808-726-9495. You can also send us your inquiries via this Online Form. One of our experts will call you back soon to discuss your project.