Rock Wall
If you're hoping for a landscape that has the potential to enhance your outdoor area significantly, rock walls may well be the answer. Unlimited Landscape Hawaii LLC is a well-known company in the Wahiawa, Hawaii area for rock wall installation. While installing these structures is not a simple task, our skilled staff is up to the job.


Rock Wall Ideas and Plans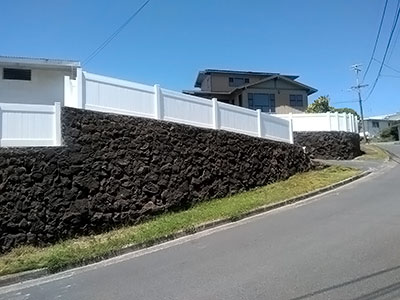 Rock walls and complex rock work are uncommon on house exteriors for a good reason. They can be challenging to install and much more challenging to install aesthetically. This upscale appearance of well-placed rock walls only adds to the appeal for many homes in the region. We are a well-known local company specializing in this work, providing artistic and practical flare to a range of outdoor locations.

Whether the objective is to add height to an otherwise austere environment or define separate outdoor zones, we can install rock walls on your property. We also ensure that these structures adhere to building and safety regulations and blend perfectly with the surrounding area's aesthetic.


Rock Wall Layouts
Apart from aesthetics, rock walls provide a variety of uses. These can help with the control of overflow and drainage, the management of land slopes, and the prevention of erosion. Kindly contact us if there is a specific reason for installing rock walls.

Our skilled experts offer invaluable insight into the type of design that is most appropriate for your property and needs. Along with providing design guidance, we will discuss the viability of combining drainage systems into draining walls and the correct location of rock walls, among other things.


Customized Rock Wall Installations
We typically use natural stone to construct rock walls because it creates a more defined barrier. Natural stone's texture and look are also great for accentuating specific areas of your landscape.

While natural stones are commonly used for rock walls, you may also use synthetic stones, etc. We provide complete color customization of these materials to complement any existing architecture or feature. Additionally, we can incorporate one-of-a-kind design components to complement your outdoor aesthetic.


High-Quality Landscape Walls
We can construct structures ranging from bare block walls to the organic appeal of wall stones to complement the aesthetic of your house. Our staff will work directly with you to choose the best materials and accomplish the desired aesthetic. Generally, we prefer to utilize rock over concrete for outdoor walls since the former has a longer lifespan and is more resistant to erosion.

Not only do rock walls act as a landscape element. They can be used to address site issues such as a lack of usable land and an incorrect grade/slope. If you are a property owner wishing to install rock walls in your home's exteriors, select a landscaping company like us that specializes in stable structures.

If you want the best quality rock wall installation, please call Unlimited Landscape Hawaii LLC at 808-726-9495. You can also send us your requirements and inquiries via this Online Form. One of our experts will call you back soon to discuss your project.