Tree Service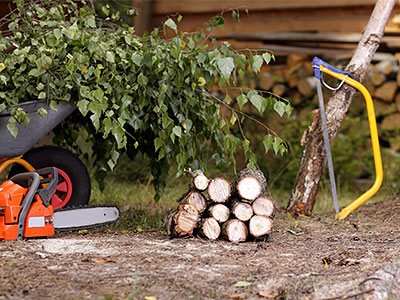 Our Various Tree Services
It's just wise to protect and improve your investment. Our company can help you with our reliable tree service. We have arborists who are experienced in doing this highly specialized task. Here are some of the specific tasks that we can do:


Planting. Every yard should have trees. We'll help you choose the best species based on your care commitment and your functional plans for the area. After that, we'll help with planting a tree and care for it until it is mature enough.


Pruning. Trees would need pruning if they interfere with structures and utilities, are damaged by storms, are diseased, dead, or, if doing so, will improve their function.


Emergency Tree Care. Emergencies like storms might happen that could cause damages to some parts of or an entire tree. We'll be there no matter what the reason is and no matter what the tree service might be.


Tree Removal. It may be a difficult decision, but, sometimes, removing a tree is the best thing to do. That is, if the tree is dead, dying, obstructive and cannot be corrected, causes harm, crowds an area, diseased, needs to be replaced, or if required in construction. Our arborists can help you decide whether tree removal is the best option.


Working with trees requires a high level of expertise, ability, and determination. When it comes to big trees, one wrong move can be fatal. As a result, it is better to delegate this duty to the professionals. Unlimited Landscape Hawaii LLC has years of expertise working on tree-related projects and knows how to handle them.

We provide tailored tree care programs for you based on the overall number and variety of trees on your property in Wahiawa, HI, and your unique requirements. We perform routine tree cutting and trimming and provide insect and fungal treatment as required. Fruiting trees require a different amount of attention, which is why we developed a method specifically for them.


Stump Grinding Solutions
Stump removal is necessary following tree removal on commercial and residential properties. If you ignore this stage or do it yourself, you will squander the money you spent to have the trees removed. Apart from posing a safety hazard, the uncovered tree stump detracts from the area's aesthetics. The stump may decay and get diseased, causing damage to the nearby grass and/or plants.

Our stump grinding professionals are organized and will use contemporary heavy-duty grinders to remove the protrusion. They will grind the stump to a few inches below the surroundings and then fill the shallow area with dirt. If you wish to remove excessively grown trees to make way for an outdoor living element or extension, please get in touch with our specialists to discuss your requirements. We can handle projects of any shape and size, safely and efficiently.

For information regarding our other professional tree services, please call Unlimited Landscape Hawaii LLC at 808-726-9495. You can also send us your requirements and inquiries via this Online Form. One of our experts will call you back soon to discuss your project.