Landscape Services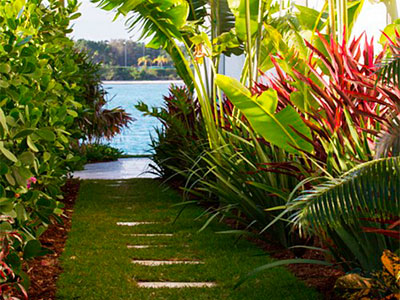 Here at Unlimited Landscape Hawaii, we take pride in the level of dedication and expertise that we devote to the various landscape services that we offer to our clients throughout Oahu. When you decide to hire us, you are assured that we will provide you with the same commendable expertise that we have given before to hundreds of residential and commercial property owners in the state of Hawaii.

With us, top-notch, yet affordable landscape services are just a phone call away.

Call today to schedule a FREE estimate!


Landscape Design
We have a dedicated team of designers who can create a landscape plan based on your vision and taste. We offer landscape drawings as well as 3D design plans which are a collaboration of your ideas and our expertise. Our landscape designs are not just meant to bring out your property's beauty, but to also turn it into a place that your family, friends, guests, or clients can enjoy.


Landscape Installations
We specialize in installing a wide range of landscapes for residential and commercial properties. Our professionals have the design and installation experience necessary to manage and implement your custom design from start to finish. Our landscape installation services include:


Complete Lawn Renovation
Lawn & Plant Installation
Hardscapes
Patios & Gazebos
Water features
Rock Walls
Excavation & More!
Sod Lawns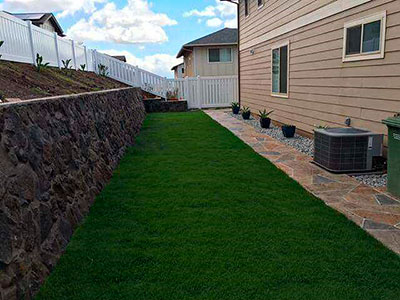 If you wish to have a wonderful-looking lawn, then let us offer you one great option: sod lawns. Our sod installation services will ensure that your barren lawn area will suddenly become an oasis with our top-quality sods. The sods that we use are the finest available anywhere, and our landscape workers are trained to install them efficiently and speedily so you'll have a stunning lawn in no time.


Artificial Turf
Another specialized task that we include in our landscape services is the installation of artificial grass. Installing artificial turf is one great option to turn your lawn into an ocean of pleasant green. Our artificial turfs are carefully picked by our landscaping team so you're guaranteed that your property will be having sturdy, attractive, and natural-looking artificial turf.


Sprinklers & Irrigation
If you have plants, trees, and lawn areas, then you definitely need our expertise in installing sprinklers and irrigation systems. As one of the most common landscape projects that we handle, we can pinpoint the exact type of sprinkler and irrigation system that will provide the most benefits to your property.


Drainage Solutions
Without a functional and well-built drainage system, your property runs the risk of flooding when water from your irrigation or laundry/sink areas suddenly overflowed. Fortunately, our company has the expertise required to install efficient and functional drainage systems as well as to troubleshoot various drainage problems you may have.


Custom Borders
We can add appeal to most outdoor environments by installing beautiful custom borders. We have dedicated people who can design and create edgings for walkways, parking lots, gardens, trees, and many other areas and structures all around your outdoor area.


Hire Us Today
Unlimited Landscape Hawaii promises to deliver exceptional and affordable landscape services to every commercial or property owner in Hawaii. All you have to do is contact us and our friendly staff will be pleased to assist you.

Make the landscape of your dream a reality soon by getting our comprehensive landscape services. Call us today and let us work our magic on your property!