Retaining Walls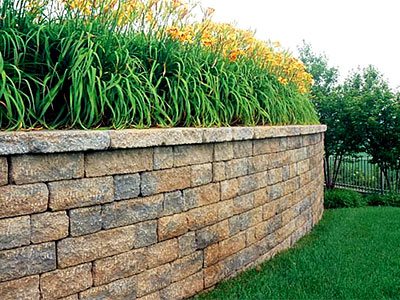 Who says retaining walls can't be stunning? We beg to disagree. As it is, our team of artisans can make retaining walls attractive, aside from being sturdy and well-built.


Well-built Retaining Walls
One thing that separates us from other landscaping companies is just how awesome our retaining walls look and function. Each retaining wall that we build benefits from the sheer creativity and skills of our in-house artisans. Coupled with the premium materials from our partner suppliers, we can guarantee sturdy walls that remain in perfect shape and look for many decades. Our crew members follow industry standards and local building codes when installing walls in commercial and residential landscapes. We also use retaining wall systems from leading manufacturers that are all proven durable, easy to install, and available in various designs.


Custom Retaining Wall Designs
We're known in the state for our highly customized retaining walls. When you hire us, you can expect your retaining wall to be a one-off. We will base the design plan on your landscape theme, design preferences, and existing outdoor amenities. Our designers use modern design tools to come up with realistic retaining wall designs. We can make design changes quickly as we go about the design phase.

Additionally, we will improve the functionality of your outdoors by creating multi-functional retaining walls. Some walls can be built with sitting areas or with mini gardens, whichever way you want them to function. The walls we install are guaranteed to last for several decades since we design and build them according to standards and using only world-class materials.

We urge you to contact us soon so we can discuss the perfect retaining walls for your property. You may reach us through (808) 726-9495 or visit us at our Wahiawa office.