Pavers
Outdoor spaces on residential and commercial properties must endure exposure to changing climatic conditions and regular use. When we at Unlimited Landscape Hawaii LLC handle landscaping projects for our clients, we recommend using sturdy materials, and pavers become the natural choice. These versatile products are ideal for almost all outdoor spaces, including patios, decks, driveways, paths, and walkways. They look fantastic, last long, and are easy to maintain. Our team creates the most exciting paver patterns and designs on our client's properties in and around Wahiawa, HI.


Types of Pavers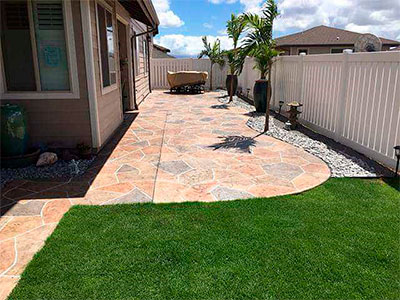 While we will help you with all the details about these products and excellent paver installation, this information will help you determine whether they are a good option for you. The different types of pavers you can choose from include:


Concrete Pavers - Concrete pavers are very durable and available in various shapes, sizes, and colors. Therefore, the material has a high degree of adaptability. Because concrete comes in multiple forms and textures, it complements almost any architectural design. However, most modern and urban designers use concrete pavers, and we recommend them to our clients for their residential and commercial landscapes.


Natural Stone Pavers - These pavers are very durable and long-lasting, and they can endure heavy use and constant exposure to the elements very well. It is undoubtedly a premium paver choice for your outdoor spaces but well worth the slightly higher cost. You can choose from granite, travertine, sandstone, bluestone, and slate pavers of different shapes and sizes.


Brick Pavers - Brick has a long history dating back hundreds of years. It has a rugged, timeless appearance that can help distinguish your driveway. Because the color of brick rarely fades, you never have to stress over losing its attractiveness down the track. It requires just routine care, like pressure washing, to keep it looking brand new.


Why Choose Pavers for Landscapes and Yards?
As previously said, there are several benefits to using paving stones in driveway and patio constructions; the below are some of them:


Pavers are stable when installed well, and you won't need to be concerned about the components slipping or losing traction
They are available in an array of shapes, hues, and patterns
Range of paver material options like brick, concrete, or stone
Paver stones are very adaptable and are suitable for almost any outdoor space, including patios, decks, walks, entryways, walkways, and driveways. This characteristic makes it easy to maintain a uniform appearance across the exterior areas of your house.
These materials are very durable, and they will not easily fracture. However, if any breakage occurs, we can quickly replace individual paver units with complementing paver units; this is another significant advantage
Custom Paver Installations
We install paved areas using the best materials and techniques, then painstakingly sand and seal them to ensure the installation's lifespan. Each property owner desires long-lasting outdoor elements. Pavers are a low-maintenance product that needs a little hosing periodically

Whether building a new sidewalk or driveway or resurfacing existing outdoor areas, pavers are a great option. If you want residential or commercial paver design and installation, please call Unlimited Landscape Hawaii LLC at 808-726-9495. You can also send us your requirements and inquiries via this Online Form. One of our experts will call you back soon to discuss your project.