Landscape & Hardscape Services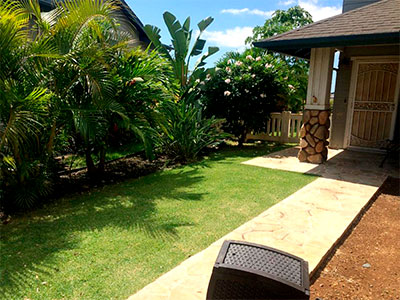 Unlimited Landscape Hawaii LLC is one of the most reputable landscaping firms in the region. We are known for our one-of-a-kind and impressive aesthetic and functional constructions. As an established company, we make every effort to provide our clients with exceptional experiences. We strike the perfect blend of dependability, outstanding quality, and affordability, ensuring that you obtain value each time you engage with us. We can assist you in developing new landscapes from the ground up or enhancing an existing location with a few elements. Our company can help you with your landscaping needs, large and small, including masonry building, lawn installation, and paver installation. Our proactive approach guarantees that the external areas of your company or residence are functional, durable, and simple to maintain. Our expertise includes the design, layout, and construction of hardscape and softscape elements and the installation of a range of water and fire elements. To business and residential clients, we offer the following services.


Landscape Services
We understand that you want your property's outer spaces to make a statement, so we have skilled landscape designers on board who specialize in creating stunning landscape design ideas for your premises. We start the landscaping development process when you select the design, concept, and goods to be utilized. We only use the most skilled masons and installers. Our supervisors on-site verify that every task is effectively finished. We focus on using ecologically friendly components and practices, such as LED and solar lighting, drip irrigation, and rain sensors. When combined with efficient energy and water-saving products, this technique allows us to create stunning and healthy outdoor spaces for our clients. We can help with softscaping design to create well-balanced outdoor areas and various hardscapes. We use only the highest quality products and resources to create aesthetically pleasing yet ecologically responsible outdoor environments that give our customers years of enjoyment. Read More About Landscape Services »


Grass Installation
While many people like having lawns in their homes, many dreads the weeks spent waiting for the grass to develop. Additionally, they want easy-to-maintain yards that they can quickly fix if the grass gets damaged or worn over time. We provide outstanding sod installation services to our customers. Sod is a kind of pre-grown grass available in sheets or squares. We get the grass from renowned local nurseries and install it properly after extensive ground preparation. Sod installation is the best option if you want a quick lawn space that you can use immediately after installation. Because the grass is mature, it is less prone to weed growth. All these elements add up to make sod lawns a preferred option to seeded lawns. However, we also offer the latter to our clients on request. We will provide you with the information to determine which products best fit your requirements. Read More About Grass Installation »


Yard Maintenance
After you've built the yard of your dreams, it's vital to maintain it correctly, which our expert landscape care services are designed to do. There are many package choices, or you may request a customized plan, ensuring you get the solutions you want at a price that fits your budget. Each service we offer is customized to your specific needs, and we prioritize delivering personal attention to each client. Regular yard upkeep increases your property's value while increasing its curb appeal. Lawns are a big part of most yards, and we include their maintenance in yard care plans. A customized lawn care program is required to keep your grass healthy and attractive. Maintaining healthy, weed-free grass requires applying the necessary treatments at the proper times, which our professionals can help you with. In addition to these services, we also offer seasonal cleanups, drainage and irrigation system maintenance, tree care, shrub pruning, trimming, and more. Read More About Yard Maintenance »


Tree Service
Working with trees needs a great degree of skill, competence, and resolve. With large trees, even the slightest misstep might be disastrous. Consequently, it is preferable to assign this responsibility to professionals. We have years of experience working on these jobs, and our staff is well-versed in the industry's best practices. We create customized tree care plans for you based on your property's total number and type of trees and your specific needs. We do regular tree pruning and trimming and, if necessary, give insect and antifungal treatment. Our crew also cuts overgrown or diseased trees and grinds stumps on residential and commercial premises. We are environmentally conscious and approach our tasks carefully. Fruit trees demand a distinct level of care, so we designed a system just for them. We personalize our services and do all these tree service jobs securely and methodically, and you get value for money when you hire us. Read More About Tree Service »


Masonry & Concrete
We offer masonry and concrete services, including retaining walls, rock walls, pavers, and concrete overlays. We use a range of materials in our work, such as brick, natural stone, rocks, concrete, etc. Our skilled and creative team works with you, ensuring that they understand your needs. They also assess the landscape and the elements to provide solutions and designs that blend with the existing features. We use high-grade concrete and masonry products and materials, ensuring your hardscape's durability and longevity. We ensure that the excavation and site work are up to mark so that all the masonry and concrete elements are stable. Whether you need masonry work for your commercial landscape or concrete installations and overlays for a residential yard, we can help. No job is too big or small for us, and we assure you of the best and most cost-effective services every time. Read More About Masonry & Concrete »


Water Features
We develop and install unique water features that match your specific demands. Our team members use their industry experience space to ensure you get value for money. Our water features will elevate your landscapes or gardens to a new degree of elegance. You can improve the appeal of your outdoor environment while also raising your property's value by including these components. Our professionals strive to create water features that blend in with the surrounding environment. Among other things, we can create waterfalls, fountains, koi ponds, and streams. You can be confident that the exterior water features we build for you will endure a long time and complement the beauty of your environment. Our company focuses on quality and affordability, and we always strike the right balance between the two. We can also help you replace an outdated water feature on your property or install these in new landscapes and yards. Read More About Water Features »


Landscape Carpentry
You may require carpentry work if you have a patio, deck, pool house, or if you need an outdoor kitchen built. We handle it all, from outdoor cabinets installations and repair to wooden deck construction, patio & sundeck repair, garden fence installations and repair, pergola construction, wooden column and beam, and pergola installation and repairs, among other things. We've built a name for ourselves by establishing very high-quality standards in our work, using the best materials. We employ highly competent and experienced employees who can easily manage even the most challenging outdoor carpentry works. These carpentry services are available for more extensive landscape construction and implementation projects. We can also supply these services separately if necessary. Even though we maintain outstanding quality in our works, you will find our outdoor carpentry costs to be very affordable. We offer the ideal balance of creativity, professionalism, and affordability in the landscape carpentry works we handle. Read More About Landscape Carpentry »


Fencing
Most business and residential environments have fencing along the property's periphery. They serve as a boundary between properties and divide areas inside a yard or landscape. Wooden fences are popularly used to enclose decks, terraces, patios, and swimming pools. Our company has been in this industry for a long time, and our team has a wealth of knowledge. We have the skills, experience, and resources to install a variety of fences for both commercial and residential premises. If you're looking for a contractor to install fences on your property, look no further. Since each commercial or residential building is different, and each customer has different needs, we tailor our services to meet your needs. We've worked with wood, wrought iron, and composite materials and installed chain link and mixed material fences. We use our creativity, skills, and experience to create unique fences on our clients' properties. Read More About Fencing »


Excavation & Hauling
Our excavation and hauling solutions provide a one-stop shop for your landscaping requirements. We can support you throughout the different stages of your project. Additionally, we can ensure that extra dirt and other debris are appropriately disposed of. We can do this every day for a massive project. Alternatively, we can establish a routine to maintain your landscape site clean and clutter-free if that is not necessary. Inadequate excavation might result in unneeded extra effort on the site. Our excavation services ensure that the least number of materials and dirt, including existing civil works, are relocated efficiently. Additionally, we provide that no damage occurs to adjacent homes or other structures. Whether you're doing a home renovation project or landscaping a park in the area, we can assist you in keeping your landscape and the surroundings clean and free of dirt and debris generated by the project. We offer these services as part of our larger landscaping jobs. Read More About Excavation & Hauling »

We have the experience and understanding necessary to design and construct numerous masonry components and plan grass installation and water features for your property. With our assistance, you'll notice that your exterior spaces seem more spruced up and inviting throughout the year. Our company has established a reputation for excellence in all facets of hardscape design, development, maintenance, and installation. We have extensive experience in this field and the capability to deliver novel solutions. We use only the finest materials and installation methods to create stunning, low-maintenance outdoor spaces. When paired with our commitment to quality, this strategy creates incredible value for our customers. We ensure that you receive exceptional value and low-maintenance features. If you want any landscape service, please call Unlimited Landscape Hawaii LLC at 808-726-9495. You can also send us your requirements and inquiries via this Online Form. One of our experts will call you back soon to discuss your project.