Pergolas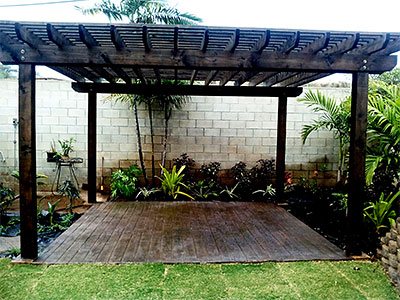 People have different names for pergolas; some call it a patio, gazebo, outside deck and pent. No matter what you call it, they are beautiful and are meant to serve as a recreational spot for families. These garden structures are considered an extension of the house. If you are looking to have a place in your garden to sit and enjoy the colorful flower, birds and lush greenery then building a pergola is ideal.

Some people spend more time on their patio than they would inside their homes. If you have a beautiful garden to enjoy then why not spend time outdoors? If you have a pergola, you should make it even more interesting by adding the right patio furniture and ambiance to make it interesting and aesthetically pleasing. There are hundreds of choices to build a beautiful gazebo. For example, you can have a metal pergola or you can have a wooden one, concrete or even plastic.

The choice is ultimately yours as to which one you would prefer. The bottom line is, pergolas are a great feature to have in your home garden. You can place the right outdoor furniture to make the space comfortable, attractive and functional. You never have to lift a finger to design and install your pergola, as we at Unlimited Landscape Hawaii LLC can do it for you. Call us today on 808-726-9495 and speak to our friendly and professional staff today to find out how we can help you get a dream garden.

Today's property owners make considerable efforts to distinguish their homes from others in the neighborhood, both aesthetically and functionally. They do internet research on design trends and employ reputable contractors to complete various projects on their property. While they devote considerable effort to planning the interior of their home, they also spend time planning their alfresco areas.

The Unlimited Landscape Hawaii LLC team has designed and installed multiple pergolas in and around Wahiawa, Hawaii. We offer complete outdoor living solutions and can install any pergola you choose. You can choose from different outdoor structures and adding a pergola to your patio or terrace is an excellent way to provide shade.

These interesting outdoor improvements can help you brighten up the aesthetic of your outdoors. They're not only attractive but also quite functional, contributing to the overall beauty of the landscape. These are constructions with latticed ceilings supported by beams. You can grow delicate vines on the pergola to provide additional shade, allowing you to enjoy the surroundings even during the day.


Pergola Materials
We build pergolas using wood, composite, vinyl, metal, and more materials. No detail is too insignificant when it comes to helping our clients achieve the style they desire for their property. Inform us of your vision for these places, and we will make that happen. Our team understands that your house is a haven, and you want every piece and area to be perfect. It is an aspect we consider while planning your pergola. Since we customize these structures, you can be sure that the new pergola will fit in well with the other landscape elements.

For superior pergola installation, please call Unlimited Landscape Hawaii LLC at 808-726-9495. You can send us your inquiries through this Online Form. One of our team members will call you back soon to discuss your project.